Marko's book on LEGO® SERIOUS PLAY® method!
LEGO® SERIOUS PLAY® background?
LEGO® SERIOUS PLAY® is a methodology to structure discussions. People engage in group discussions that are assisted with LEGO® bricks.
People build and discuss various metaphors that describe nature of a problem and its potential future state. In case of more complex problems or issues they will be appended by a complete set of various stakeholders - the clients, the vendors, the competitors, the collaborators. After all the different agents would be mapped onto a holistic landscape the participants agree upon a set of common rules of behavior to tackle various eventualities and emergent scenarios. They agree upon norms of action in case of dealing with unexpected and derive their principles of action (simple rules) to execute their future strategy and determine their plan of action.
Marko talking about LEGO Serious Play methodology

What can you do with the help of LEGO® SERIOUS PLAY® method?

1st Level
Playful Intro
Individual model building
Simple applications that include fun ice-breakers, setting goals, offering feedback, one-to-one mentoring or coaching, idea development, exploring behaviors and values, individual learning.

2-8 hours

2nd Level
Sharing and Outcomes
Shared model building
Creating common understanding on shared issues, e.g. shared vision, values, mission, processes. New products, services and business models. Agreeing upon goals, objectives, action plans.

4 hours - 2 days

3rd Level
Systems and Solutions
System modeling

Modeling systems - complex organizations and systems with multiple stakeholders, strategies, scenarios, emergencies. Model, analyze and redesign processes and systems

2-5 days or more

Click here for
detailed
application techniques
Why LEGO® SERIOUS PLAY® is better than a regular meeting?

Serious Play, gr. spoudaious paidzein) origins from Plato's "Politeia", where it has been described as a pleasant activity aiming to educate oneself. LEGO® SERIOUS PLAY® is rooted in theory, published in top journals and includes numerous references to advantages to other similar types of tools and methods.
LEGO® SERIOUS PLAY® results are more sincere
LEGO® SERIOUS PLAY® leads to dedicated participants of the meeting
LEGO® SERIOUS PLAY® helps to unleash ideas

LEGO® SERIOUS PLAY® helps to remember details
LEGO® SERIOUS PLAY® helps to equalize discussion
LEGO® SERIOUS PLAY® helps to lower conflict
LEGO® SERIOUS PLAY® example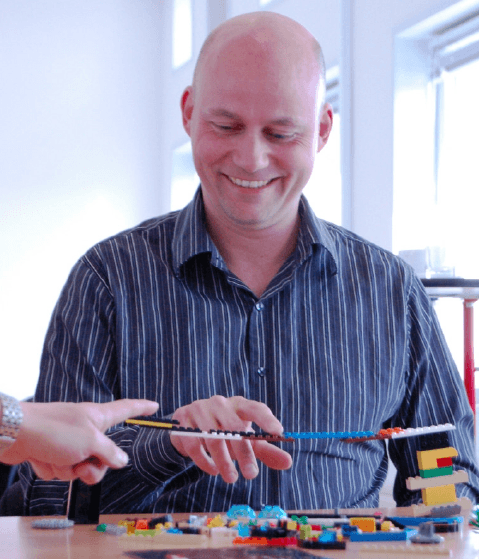 1. Practice

In the first phase, the participants practice their building skills and ability to recognize and create metaphors and stories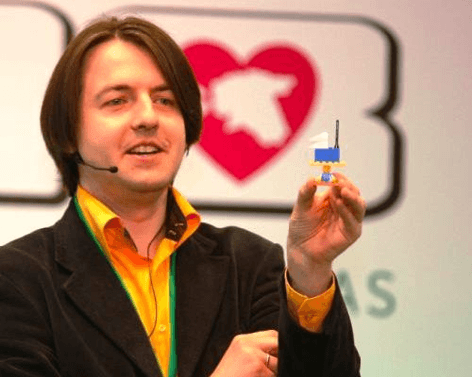 2. Task
Thereafter your LEGO® SERIOUS PLAY® facilitator gives your group a building task. E.g.: "Describe your problem today!"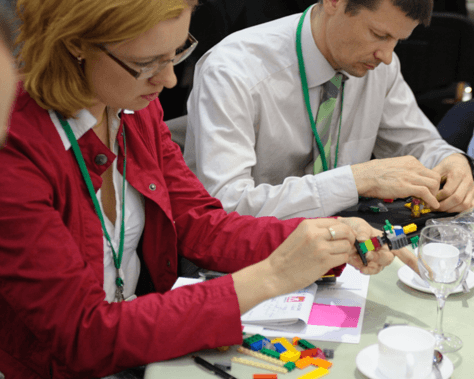 3. Building

All participants engage in building to respond to the task individually

4. Story-telling

Participants explain their story to the others, if necessary the others reflect on what they heard

5. Refining

The story will be refined, mostly with the help of additional tasks. E.g. "What are the most difficult aspects of your problem"

6. Modeling

Participants engage in building a holistic model of their problem with all related stakeholders. They add a set of agents - e.g. clients, vendors, partners
7. Analysing

The agents are connected to the original problem and participants analyze the linkages between the parts of the model to seek the roots of the problem

8. Playing

Using the model, the participants play through various future scenarios to understand how to best deal with the problem

9. Concluding

As a result of discussions, the participants generalize their principles of action for the future to tackle the original problem

Marko and his LEGO® SERIOUS PLAY® experience
I started experimenting with LEGO® bricks in 2005 after participating in a conference where Johan Roos told about the LEGO® SERIOUS PLAY® method. I self-educated by reading the working papers, articles and books of Imagination Lab on LEGO® - related facilitation techniques and used it at University as experiential learning tool and worked with some companies, too. In 2009 I completed full certification as a LEGO® SERIOUS PLAY® facilitator, delivered by Per Kristiansen and Jacqueline Lloyd Smith.

Marko clients with LEGO® SERIOUS PLAY® method

Lego Serious Play at Innovation Summit

Joomla community Lego Serious Play
​Samsung - strategy session with their senior regional managers in Europe
Sofigate - Session on digitalisation with IT Academy alumni

​Innovation Summit - 120 people working on innovative business ideas during Bucharest Technology Week (see video on the left)
Oxford Said Business School Executive Education - Strategy Session for Custom Executive Education

Telia - ideation with their TV business people

Session with 260 representatives of Joomla World Community in Bangalore (see video on the left)

1-day with Estonian Development fund with 160 participants formulating the long-term vision for the whole Country
Vision building for the future for Estonian Parliament Chancellery
Enefit - strategizing at an energy firm

Elion and Microlink - facilitating merger discussions between a telecom firm and an IT firm

problem analysis of Estonian higher education policy with Ministry of Education and Archimedes Foundation

University of Tallinn - handling change management discussions for restructuring

Autoliv & Norma - helping managers of an automotive firm assess their strenghts

assist an IT firm to discuss their corporate values
training nearly 400 managers of civil service on the use of LEGO® SERIOUS PLAY® for problem solving and futurizing

Choose if you want to learn LSP or invite Marko to facilitate with LSP

Want a facilitated LEGO® Serious Play® workshop?
Let me know your event objective and design

Number of participants
Event location - for travel and accommodation

Want to learn LEGO® Serious Play®?

People apply LEGO Serious Play methodology at different places. Do you want to use LSP for coaching, team building, strategy work and find out how Marko's training helps you.

This website is not approved, authorised or endorsed by the LEGO Group. LEGO®, is a trademark of the LEGO Group. We respect and align with the LEGO® Serious Play® trademark guidelines. We use the LEGO® Serious Play® method described in the LEGO Group Open Source Guide made available by LEGO under a Creative Commons license 'Attribution Share Alike'.